The Startup Guide
An insider's guide to winning startup weekends and hackathons
The tools used at most startup events are complicated. To a beginner, the Lean Canvas is a confusing group of boxes and questions that aren't even in the right order. Customer Persona templates are filled with imaginary answers, which leads teams down the wrong path. These tools stall progress and kill the fun and excitement of a startup weekend or hackathon.
The Startup Guide is a toolkit designed for beginners under pressure. Simplified activities for hackathon teams who need to keep learning and making progress. Examples that newbies can quickly grasp and adapt in the chaos of a startup weekend. Templates to get you started right away, and step you through each process from first itch to final pitch.
Praise for The Startup Guide
"It's awesome! Packed with useful insights, easy to read and some humour for good measure – love it."
– Benjamin Wirtz, Product Tank Sydney
"Great idea. We have all been nervous Startup Weekend virgins and I think demystifying it is excellent."
– Peter Harris, Startup Weekend facilitator
"It's entertaining, which I expected. But it's more entertaining than I thought."
– Angus Pauley, Startup Dunedin
What you get
The Startup Guide PDF suitable for printing and reading on tablet or computer

The Startup Guide eBook for Kindle and other e-readers (EPUB and MOBI)

How to find a problem, how to interview customers, how to come up with solutions, how to prototype, how to test the market, how to pitch, and more

Examples, case studies, activities and templates for each stage of the process

A 24-page printable section for easy reference to the templates, frameworks and activities you will need for a startup weekend or hackathon

Tips and resources from seasoned startup advisors

Mindsets that will help you thrive in an intense startup event or competition

136 pages of fun-to-read advice, instructions and occasional silliness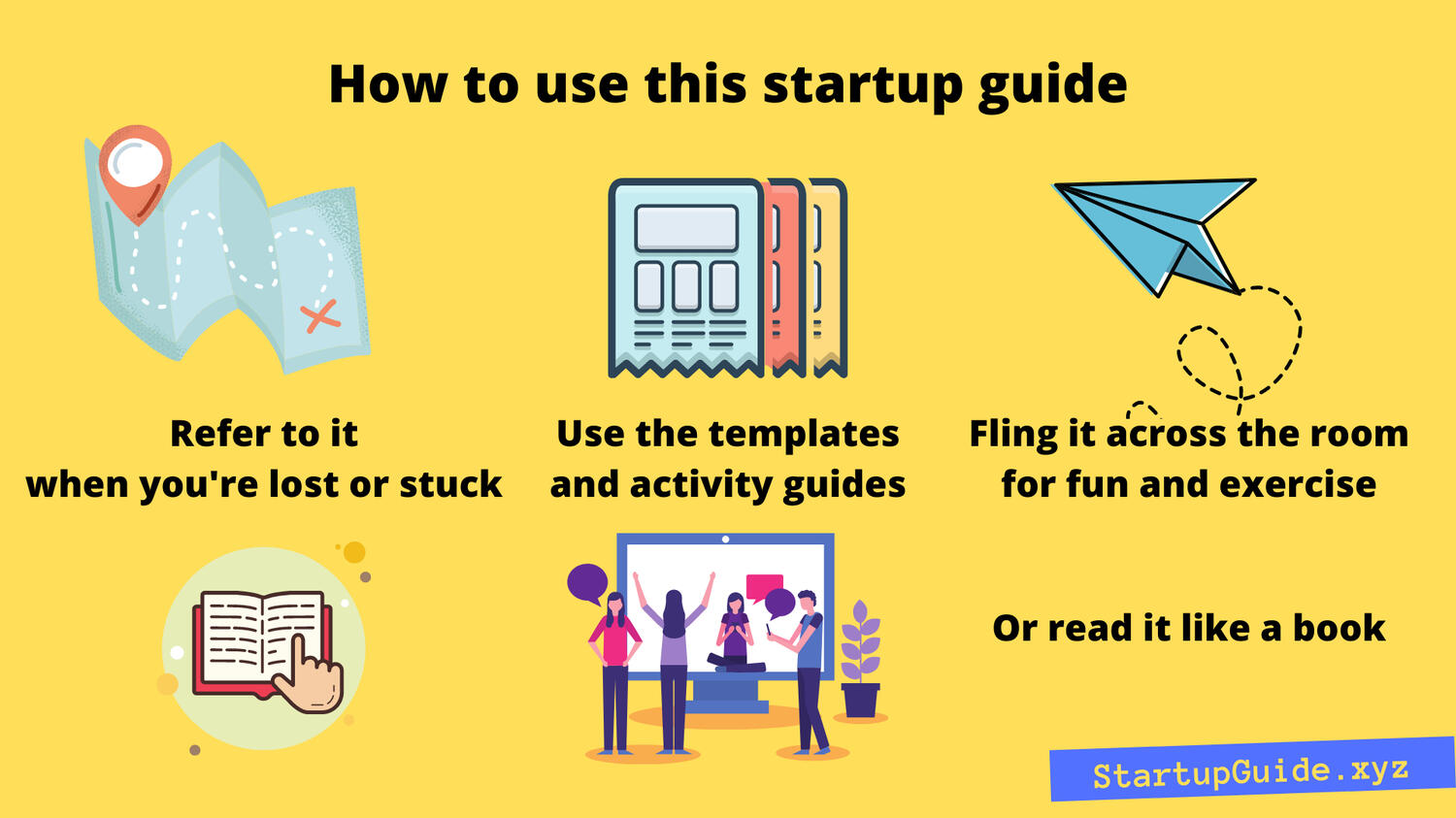 Who I wrote this book for
First-timers (and second-timers) who want to enjoy the startup process and/or increase their chances of success.

Mentors and advisors who want to be as helpful as possible to participants. This easy reference guide will answer questions about any part of the process.

Organisers of startup weekends and hackathons who want happy participants and great startup pitches at the end. (Contact me for bulk discounts or affiliate referral deals.)
Sneak peak
Grab the first few chapters to learn:
What is a startup?

What happens at a startup weekend or hackathon?

How can you prepare for a startup weekend or hackathon?